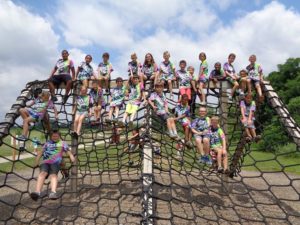 Most of the children in our School age programs are children we had in our infant, toddler and pre-school programs. We take pride in continuing these relationships and look forward to building new relationships with new families!
We provide both morning (6:30am-9:00am) and afternoon (2:45pm-6:00pm) care for children (Kindergarten to 4th Grade) attending school during the school year. We also provide a full day (6:30am-6:00pm) during no-school days, Christmas Break, Spring Break and Summer Break. School-agers will enjoy a wide variety of activities (including homework table and assistance) organized around weekly themes that include: outdoor games, special activities, opportunities to make new friends and field trips during no-school/break times.

We offer an awesome Summer Day Camp program that participates in 3 field trips per week (Tuesday/Wednesday/Thursday). We believe that summers should be full of fun experiences.  And we sneak the learning in through those experiences, experiments, hands-on activities, guest speakers, etc. We start our waiting list for our Summer Day Camp in January. All children who are currently enrolled in our care have first priority for Summer Day Camp.